305 751-1000
305 222-1010
Первый студенческий кондоминиум University Bridge, FIU Miami's
Address:

University Bridge Residences Miami
740 SW 109th Ave, Miami, FL 33174
Bird's Eye View

Prices: $197,900 - $605,900

Maintanence:

$0.40 / SF

Delivery:

2020

Floors:

20

Total apartments:

492

Residences:

Studios, 1 Bed/1 Bath, 1 Bed/+Den/Bath, 2 Bed/2 Bath, 3 Bed/3 Bath, 4 Bed/4 Bath,3 Bed/3 Bath & 4 Bed/4 Bed Townhouses

Architect:

Arquitectonica

Developer:

University Developments

Interior Designer:

Arquitectonica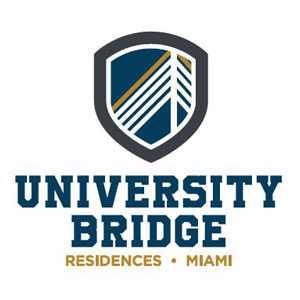 Payment schedule:
20% at Contract
15% at Groundbreaking
15% at Top Off
50% at Closing
Why University Bridge
Thinking about investing on real estate? What about off-campus student housing.

There are different ways to get involved into buying real estate; flipping homes, partner in a rental property, own and manage an apartment building, get into the Airbnb world.

Off-campus housing deficit in Miami Metro Area

However, there is a niche market you may consider: Off-Campus Student Housing. Today, the Florida International University counts with 55,000 students having a projection to grow to 65,000 in the next 5 years with expectations to continue growing thru the years as Miami population increases..

The Students Challenge

Also take into consideration, students often don't have enough background check to provide to future landlords neither have the good reputation of caring tenants. That's when specialized housing comes to place where the building offers amenities, insurance and special contracts to provide a peace of mind to the owners and a safe environment to the stjudents. Landmark Properties, has successfully leased over 20 newly-developed student housing properties to over 97% occupancy, including several in Florida. Focused on maximizing the value of each property while delivering an exceptional resident experience. Landmark will provide efficient operations and maintenance services including site assessments to optimize operational savings, service levels and safety practices, among others. www.landmark-properties.com

Leaseback

A 2 Year Fixed Annual Leaseback option will be available that ensures 2 years rent at a fixed rate.
Prices
| | |
| --- | --- |
| Studio | from 197,900 |
| 1 Bedroom / 1 Bath | from 223,900 |
| 2 Bedroom / 2 Bath | from 329,900 |
| 4 Bedroom / 4 Bath | from 565,900 |
MIAMI'S FIRST STUDENT CONDO
With direct connection to Florida International University (FIU) campus via a newly built pedestrian bridge, this architecturally striking premium student condominium will offer student focused amenities and fully furnished, finished and managed student residences.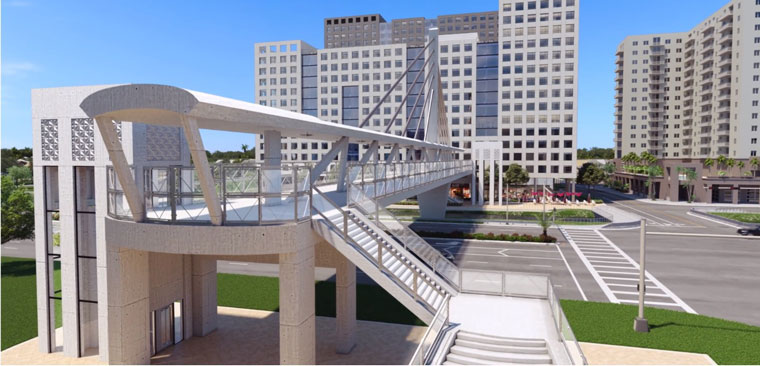 University Bridge Student Condo - Bridge
BROUGHT TO YOU BY THE TEAM THAT KNOWS STUDENT HOUSING BEST, UNIVERSITY DEVELOPMENT AND LANDMARK PROPERTIES
Ideal location! High Demand! Worldwide, over $16 Billion of the "Smart Money"€™ has gone into student housing, one o f the fastest growing asset classes in the world as University enrolments continue to trend upward. This recession-resistant sector has quickly matured and a number of large institutional investors are moving into the market. US developers built 47,800 new beds in 2016 to meet the demand. Over 92% of FIU students have to live off campus due to on-campus housing shortage. The need has grown for quality student-aimed housing built with amenities, proximity and security to help students succeed. Students and their parents demand the peace of mind that comes with quality accommodation.
Perfectly located across from the vibrant and growing Florida International University
Directly connected to FIU campus and University City via a new $11 million publicly-funded pedestrian bridge, owned by and with secure access into University Bridge
Ideally designed for a successful and enjoyable student lifestyle, University Bridge is designed to be the place to live at FIU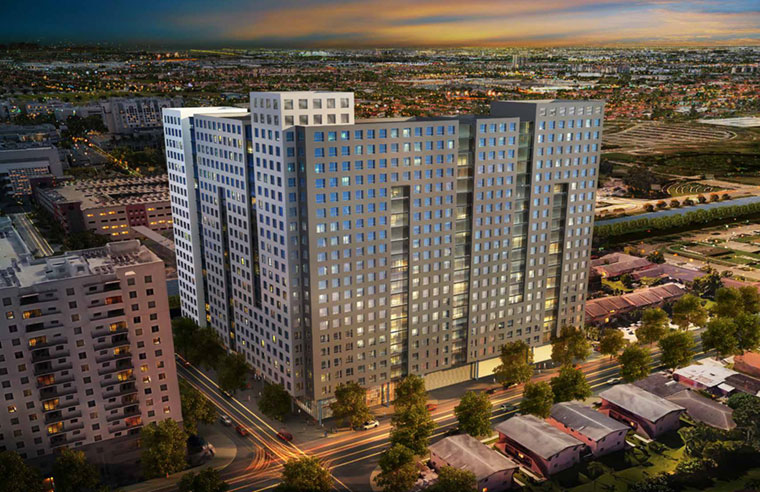 University Bridge Student Condo - Building
CONDOMINIUM OVERVIEW:
Directly connected to Florida International University (FIU) via a new pedestrian bridge to 2nd level bridge lobby
30 minutes from Miamiג€™s famed beaches, 15 minutes from Miami International Airport and 5 minutes from shopping and dining destination, Doral
Visually striking premium student condominium designed by famed architects, Arquitectonica, reflecting Miamiג€™s ocean setting with a podium-to-sky wave pattern across the exterior elevation
Premium student focused amenities throughout the building
Ground level designer lobby
Unencumbered views to the south overlooking the University
Upper level interior residences enjoy spectacular views overlooking The Deck pool area and The Rooftop terrace
Fully finished and furnished residences
Private bathroom for every bedroom
Washer and dryer included with each unit
University Bridge Student Condo - Site Plan
DESIGNED FOR SMART STUDYING:
The towers at University Bridge, prominently situated along iconic 8th Street, surround a landscaped court, a green oasis in the heart of this full city block. A virtual outdoor living room complete with an expansive pool and recreational lawns, the space connects to a student lounge and other amenities such as a large indoor/outdoor fitness center. For academics, every level has its own dedicated quiet shared study area for residentsג€™ use.
SMART OWNERSHIP:
Finished, furnished rent-ready condos
Optional unit management by Landmark Properties
Annual leaseback option available
Proven international development team
Content insurance included
Parking options available
University Bridge Student Condo - Amenities Deck 6th Floor
BUILDING AMENITIES:
2nd level bridge connection lobby
24-hour security
On-hours concierge in main lobby
WiFi throughout
Electric car charging stations
Bike parking spaces available
Study rooms on residential floors 2-20
7,750 sf ground level designer lobby with package center/mail room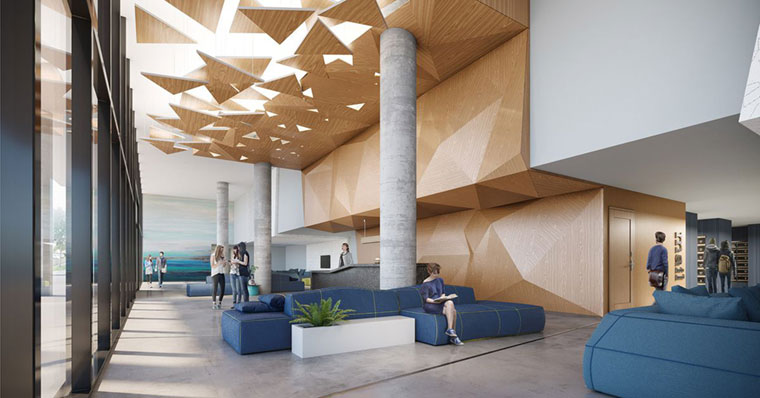 University Bridge Student Condo - Lobby
THE DECK AND 6TH FLOOR INDOOR AMENITIES:
Stunning amenity deck with landscaped recreational area and expansive terrace
Outdoor video screen for movies or sports
Resort-style pool with beach entry and pool volleyball/lap area
BBQ and dining areas
Cabanas
Sun deck with daybeds
4,050 sf state-of-the-art fitness room with roll-up door to outdoor terrace
Yoga lawn
5,500 sf indoor lounge/games room
Business center with 4 fully equipped meeting rooms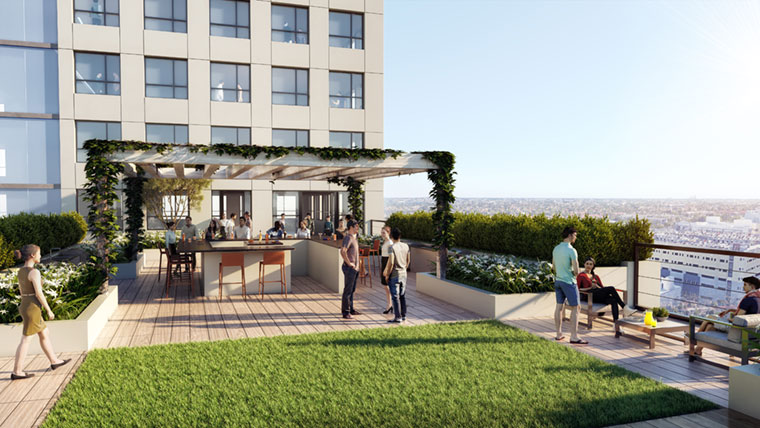 University Bridge Student Condo - Amenities Deck 14th Floor
STUDY AREAS:
Shared study area on each floor from Level 2 and up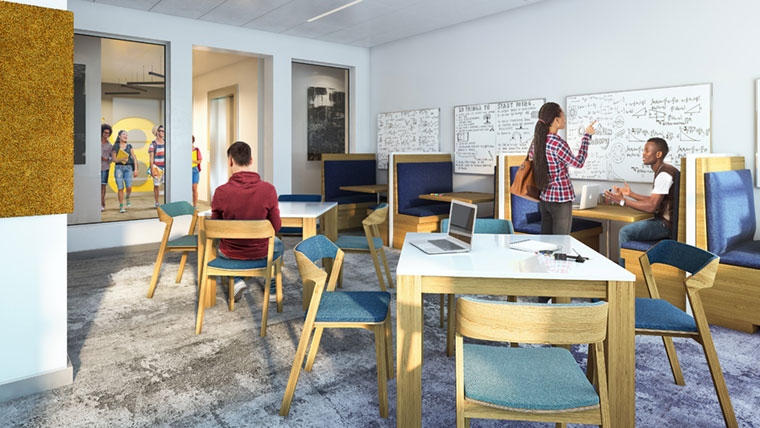 University Bridge Student Condo - Study Room
THE ROOFTOP WITH INDOOR SUNSET LOUNGE:
Fabulous 1,700 sf sunset lounge area and 8,000 sf of outdoor terrace will include BBQs, dining tables, yoga green space and performance stage
Amenities Deck 14th Floor
RESIDENCES:
Fully finished and furnished residences ranging from studios to 4 beds, which include a private bathroom for each bedroom.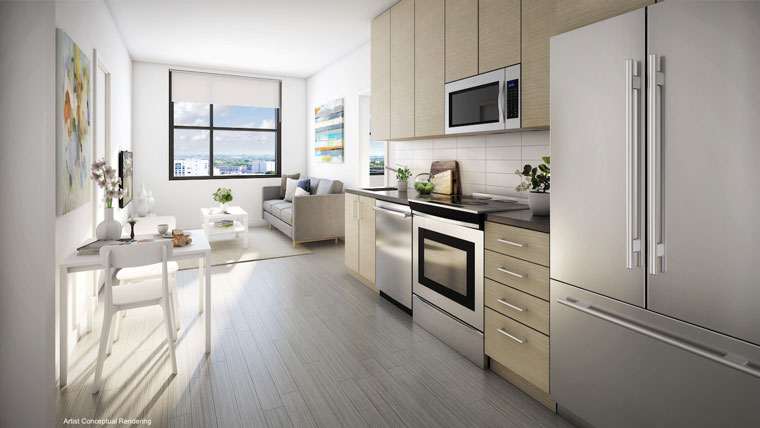 University Bridge Student Condo - Kitchen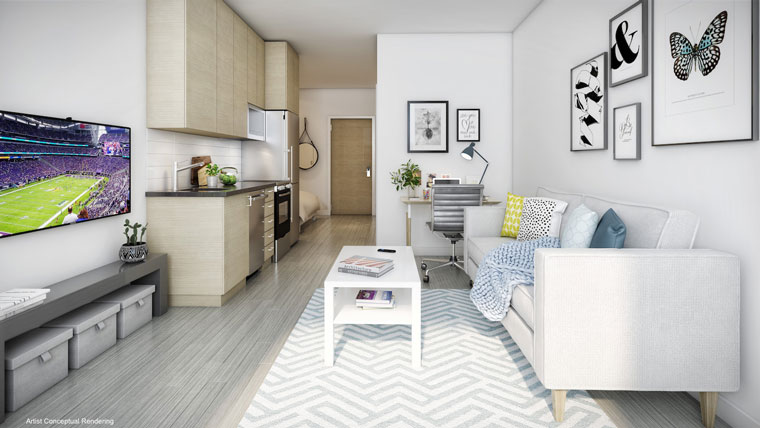 University Bridge Student Condo - Livingroom
University Bridge Student Condo - Bedroom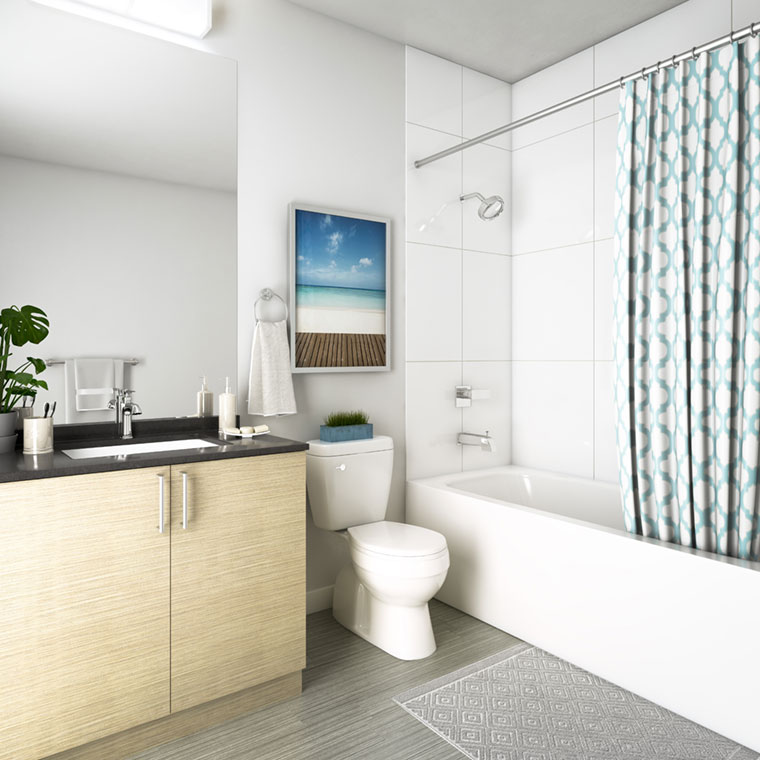 University Bridge Student Condo - Bathroom
STRONG RENTAL DEMAND
The need for student housing at FIU is great, and growing every year: FIU'€™s Five-Year $900 million expansion plan includes $150 million for a new 225,000 sq.ft. engineering building that will add 350 engineering graduates per year, and a new $25 million Recreation Center opening soon. The need for student housing at FIU will continue to increase yearly as the school expands. Total 2016 enrollment: 55,112 students, including 8,770 graduate students. BUT only 3,093 beds are currently offered in campus dormitories at FIU'€™s main Modesto Maidique Campus (MMC). As a result, only 8% of students live in college owned, operated or affiliate housing, with 92% of students living offcampus.
University Bridge Student Condo - Lobby Floorplan
LEASEBACK
A 2 Year Fixed Annual Leaseback option will be available that ensures 2 years rent at a fixed rate.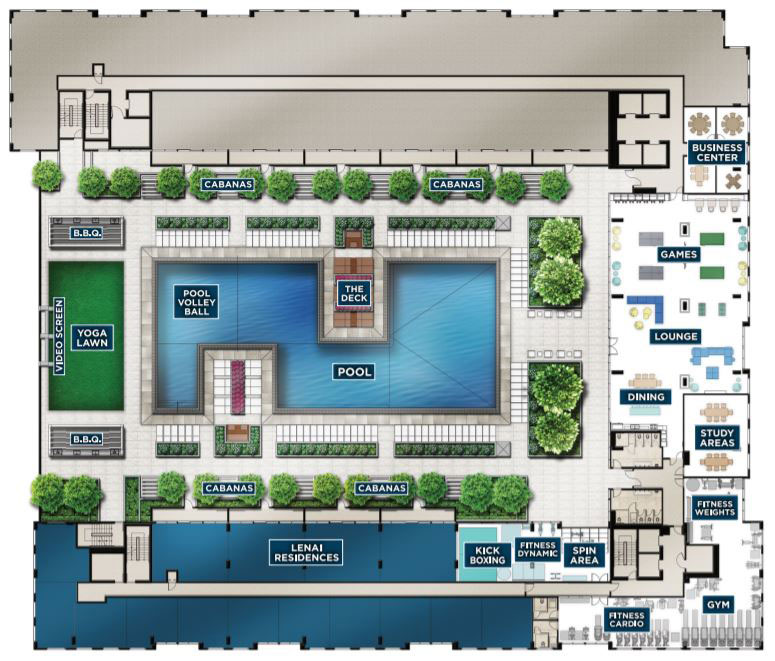 University Bridge - Amenities Deck 6th Floor
Amenities Deck 14th Floorplan