Metropica
Address:

1800 NW 136th Ave, Sunrise, FL 33323
Bird's Eye View

Prices:

$450,000 - $1,533,000

Delivery:

Early 2022

Floors:

28

Residences:

Two- and Three-Bedroom, Penthouses

Square Feet Range:

740 – 2,100 square feet

Developer:

Metropica Development, LLC.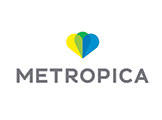 METROPICA FLOOR PLAN
For more information call 305 751-1000 today
Any questions about Metropica?
Contact our Real Estate Specialist today.
A Tropical Metropolis
Welcome to Metropica! Named for the lifestyles we fi nd most inspiring, Metropica brings the vibrant qualities of a metropolis into a lush tropical environment.
Our tri-color yellow, green, and blue logo also has symbolic meaning. It represents not only the sun, nature, and water, but also the combination of residential, offi ce, and retail that our residents enjoy in a brilliantly designed nearly 4-million-square- foot master-planned community.
The Best of Both Worlds
What if you could be surrounded by nature's beauty, yet have access to all of the exciting and convenient attractions of an urban center?
At Metropica, this is exactly what residents and visitors enjoy.
From an exciting array of dining and shopping destinations to beautifully landscaped open space and resort-style amenities, it is a masterplanned community for those who seek the best of both worlds.
Metropica Location
Metropica is centrally located in West Broward County just a few minutes from South Florida's major highways, including I-75, I-95, the Florida Turnpike, and 595.
It is less than 15 minutes from Weston and the Fort Lauderdale Airport, and less than a half hour from the Fort Lauderdale beaches, Boca Raton, and Aventura.
Natural Beauty
Whether you want to simply enjoy spectacular views across the Everglades National Park and Metropica's central park, or you want to explore them on bike or foot, the natural beauty that surrounds Metropica brings a special quality of joy to every day.
Hikes in nearby parks, including Markham Park, or a day at one of fi ve professional golf courses in the area provide even Artist's conceptual rendering. See Legal Disclaimer more opportunities to revel in the great outdoors.
A Shopper's Paradise
From luxury boutiques to trendy fashion retailers, fi ne jewelry to state-of-the-art electronics, housewares to sporting goods, everything you want and need is just a few minutes away in Metropica's beautiful outdoor shopping mall or easily accessible at the nearby 2.3 million square foot Sawgrass Mills shopping center.
Stroll To Your Office
Metropica's contemporary offi ce buildings put corporate tenants in the center of West Broward County's vibrant economy with premier access to major transportation hubs connecting to countless domestic and international markets.
Offi ce tenants and employees contribute to the lively atmosphere throughout the community and residents of Metropica who work in the offi ce towers enjoy the metropolitan simplicity of being able to walk to their offi ce.
Resort-Style Amenities
The best vacation of all may be a day in your own community!
Metropica's elevated Beach Club will feature an expansive infi nityedge swimming pool, while tennis and basketball courts and a mini soccer fi eld are ideal for friendly competition with friends and family.
In addition, Zumba, yoga, and spin classes make fi tness truly fun.
Other entertaining options include a private Movie Theater and a lively Kid's Club for our youngest residents.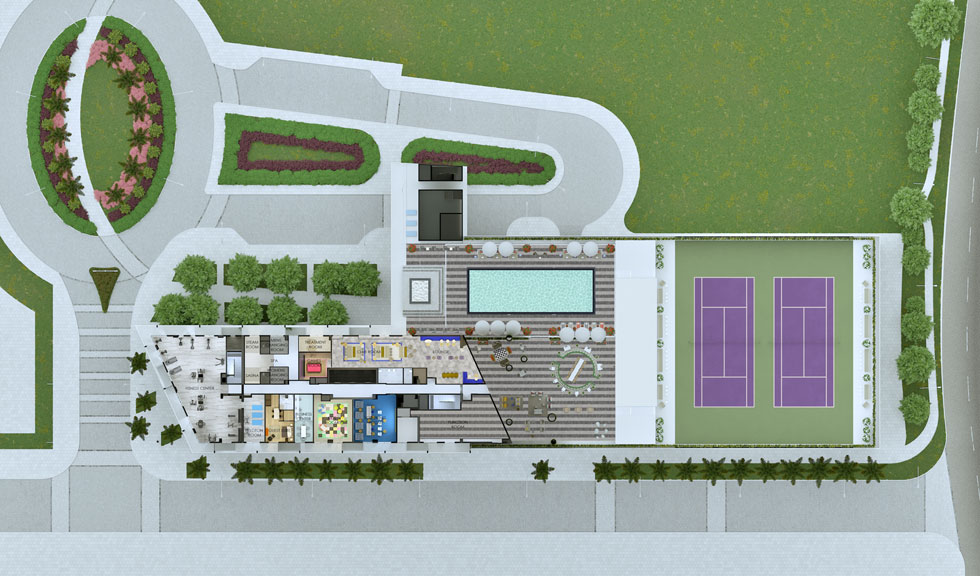 Metropica Amenities Deck
Building Amenities
Zero edge resort-style pool
Outdoor Jacuzzi
Shaded lounge areas
Fully equipped 24-hour fitness center featuring multipurpose fitness studio
Indoor and outdoor treatment rooms
Indoor steam room and sauna
Outdoor area for yoga classes
High-speed WIFI throughout all common areas
Two full size tennis courts with spectator seting areas
Valet parking for guests
4-hour concierge and security service
Full time maintenance staff
Guest Suite
Indoor clubroom with bar, lounge, catering kitchen
Game Room
Owner's Social Room (Event / party venue)
Outdoor summer kitchen and dining areas
Outdoor game area
Kid's indoor playroom
Indoor surround sound movie theater
Bike share and repair facility
Signature 'Pet Respite' featuring indoor pet facilities, including dog grooming
Climate-controlled storage facilities (available as an upgrade)
Reception butler
LED lighting throughout the project
Fully Finished Interiors
Minimal
When you step into your new residence at Metropica, everything will be not only furniture-ready, but beautifully designed to the very last detail in one of two elegant palettes: Minimal or Nature.
Nature
Nine-foot ceilings, spacious terraces, Italian-design kitchens, Hansgrohe fi xtures, and top-of-the-line Whirpool appliances are among many features that will make moving in truly eff ortless and a pleasure for all the senses.
Residence Features
Each residence will be delivered furniture ready with options from two exquisite YOO finish selections
Imported porcelain tile throughout
Open floor plans with floor-to-ceiling impactresistant, UV protection-coated, high efficiency windows and sliding glass doors
Smooth-finish 9' or 10' ceilings in all living spaces
Spacious terraces with glass railings directly accessible from living areas and wrap-around terraces in all corner units
Spacious walk-in closets in all master bedrooms
Pre-wired for high-speed communications
6" marble entry thresholds
Designer Kitchen
Imported porcelain tile floors
Premium contemporary Italian cabinetry of varying styles by YOO studios with Quartz countertops and backsplash
Whirlpool stainless steel appliances, including counter-depth, French-door refrigerator, cooktop, oven, microwave and dishwasher
Oversized stainless steel zero radius square edge sink
Washer/Dryer included
Designer plumbing fixtures by Hansgrohe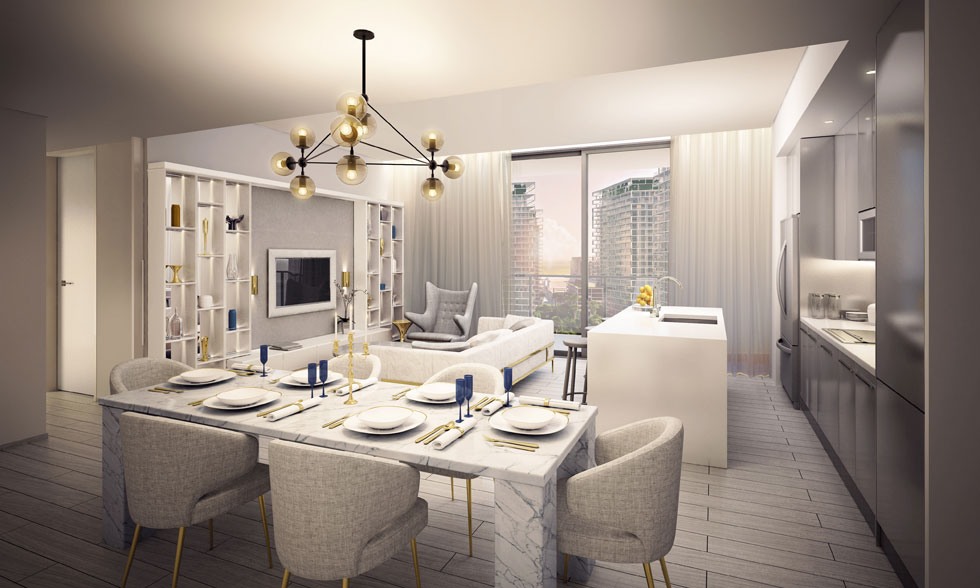 Kitchen Minimal Unit C-1
Contemporary Baths
Imported porcelain tile in the bathroom
Premium contemporary cabinetry
Designer plumbing fixtures by Hansgrohe
Contemporary white resin top vanities with integral square edge lavs. and S.S. frames
Double sinks in master baths
Oversized tubs and frameless glass-enclosed showers in select residences
Integrated LED lighting in master bathroom vanity mirrors
Powder room in select residences
Maximized Connectivity
Schlage Control™ Smart Deadbolt
CAT 6 Wiring
Leviton™ Media Enclosure for maximal wireless coverage
Leviton™ Surge Protective Receptacles
A Healthy Lifestyle
Opportunities for living a healthy lifestyle abound throughout Metropica.
A central park with bike paths, a state-of-the-art wellness and fi tness facility, a variety of sport courts, and outdoor cross-training facilities are among many amenities designed to support activities of all kinds.
In addition, pedestrian- and bike-friendly pathways link all parts of the community, including shopping and dining areas.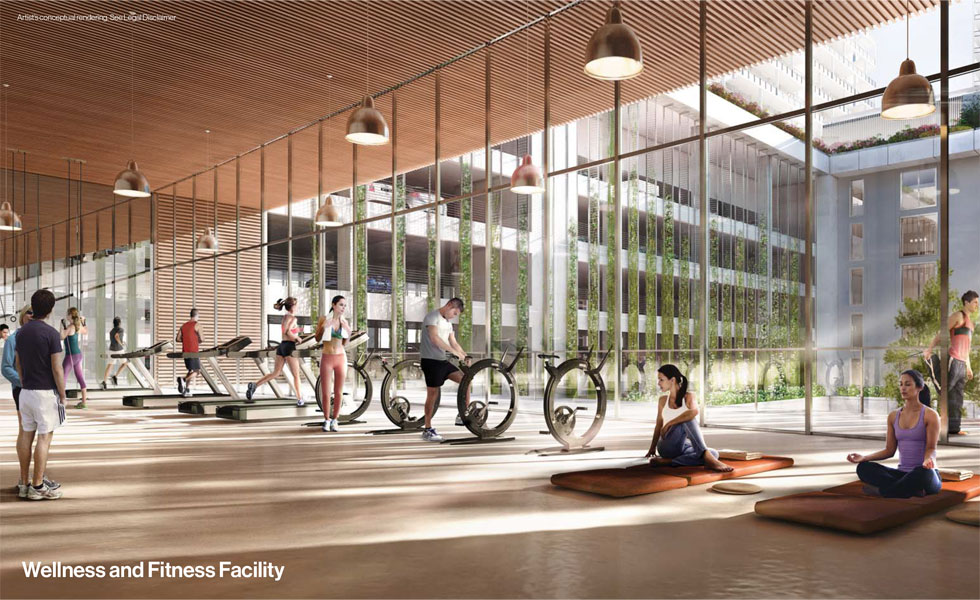 Wellness and Fitness Facility
A Great Place To Grow
Special amenities of all kinds provide places for kids to play, learn, make friends, and get lots of fresh air.
In addition to a lively Kids' Room for indoor activities, the central park has interactive sculptures and the commercial park off ers a variety of entertainment concepts for active little minds and bodies.
Wellness and Fitness Facility
Pet-Friendly Environment
Metropica welcomes up to two pets per residence and provides a number of petfriendly amenities, including a pet grooming station inside the residential towers, dedicated dog-walking areas, and pet water fountains.
Completely Connected
Whether you're walking through Metropica's central park, shopping in the outdoor mall, sunbathing at the Beach Club, or working out at the fi tness center, stateof- the-art WiFi ensures that all of your digital devices are fully functional.
Additional high-tech features include pre-wiring in residences for smart home technology, a Metropica app to control building systems, and charging stations for everything from your electric car to your phone and laptop.
Safe And Secure
Beyond great amenities for entertainment and relaxation, Metropica provides perfect access to important life-safety resources.
In the event of an emergency, the fi re station is just two minutes away and the Cleveland Clinic, which was ranked among the Best Hospitals in Florida by the US News & World Report for 2015 – 2016, is just 10 minutes away.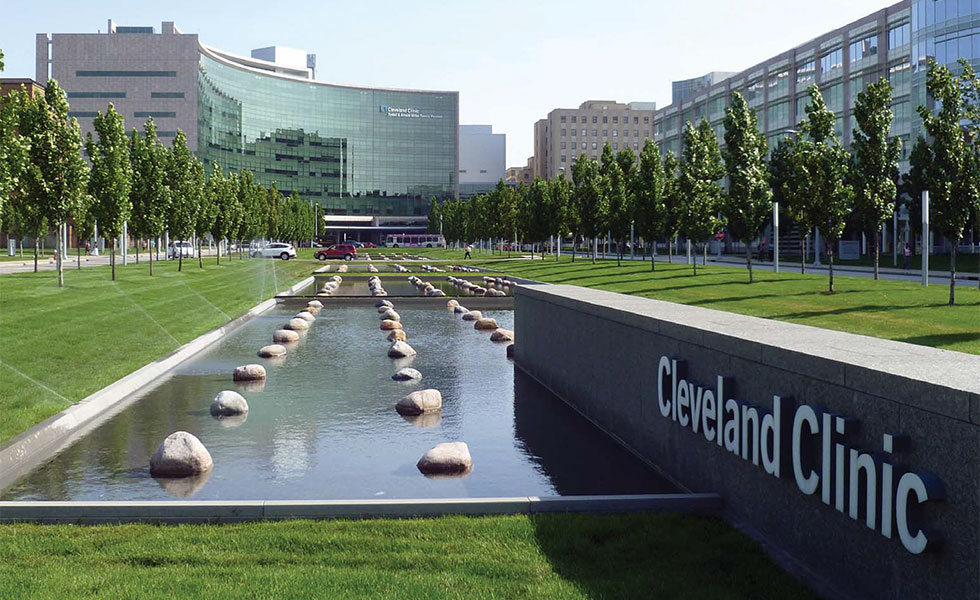 Safe And Secure
World-Class Education
A wide range of excellent educational institutions in the area around Metropica provide opportunities for students of all ages and interests to get off to a good start in life and pursue their passions.
In addition to public and private K-12 schools, nearby universities include Nova University, Broward College, and Florida Atlantic University.
Exclusive Concierge Services
The tranquil atmosphere of Metropica, which features sophisticated amenity spaces by YOO Design Studio, is made even more comforting with 24/7 security as well as a 24/7 concierge to assist with any personal needs.
Our team keeps a watchful eye and stands ready to provide exactly what you need so you can fully enjoy every moment of the day and night.
Exclusive Concierge Services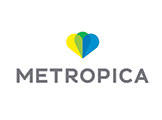 METROPICA FLOOR PLAN
For more information call 305 751-1000 today
Any questions about Metropica?
Contact our Real Estate Specialist today.