Vida Residences in Edgewater, Miami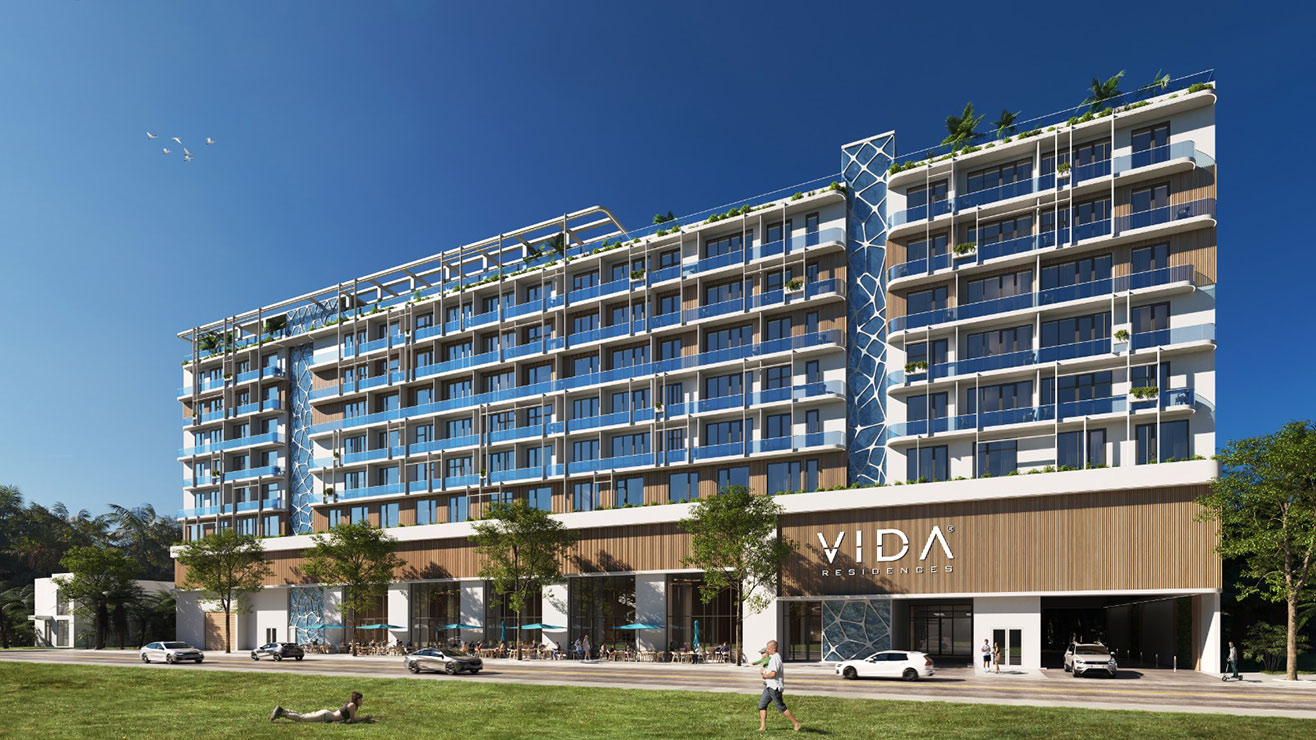 Vida Residences
410 NE 35th Terrace - Miami, FL 33137
121

Total Units

9

Floors

2024

Delivery

$350K

Starting Price
View on Map: 410 NE 35th Terrace - Miami, FL 33137
Prices:

$350K - $1.5M

Maintanence:

n/a

Residences:

Studio, 1,2,3 Bedrooms

Square Feet Range:

387 to 1,450 sq.ft / 36 - 120 sq.m

Architect:

Kobi Karp

Interior Designer:

Euro Design Group

Developer:

Urbana Holdings, Urbana Bueno
Any questions about Vida Residences?
Vida Residences Floor Plans
Edgewater's newest landmark residences are born.
Positioned in miami's most magnetic locale, edgewater miami offers a vibrant and rich community fueled by culture, glamour, and wellness.
Vida residences will create an atmosphere where residents experience an abundance of living, work, and play amenities including a rooftop oasis, wellness center, on-site dining and a member's only beach club for guests.
Enjoy an effortless cosmopolitan lifestyle with convenient access to the variety of experiences this exciting new residential residences has to offer.
The Edgewater Advantage, For Life.
As its name indicates, Edgewater is a small coastal slice of mainland Miami, covering about 1.68 square miles. It lies between Midtown and the Upper East Side to the north and downtown Miami to the south. North 17th Street, North 37th Street, and the Florida East Coast Railway form its inland borders. Its official eastern border lies a few miles out in the Intracoastal Waterway because the district also has jurisdiction over Pace Picnic Island, about 3/4 mile offshore.
The center of Miami's most in demand district.
Miami's beaches and downtown hot spots are all within easy reach of Edgewater, making this a compelling place to live. Hyper-expensive condo developments line the waterfront (one boasts an $8.6 million penthouse) with more affordable accommodation inland. The high-rise condos have unleashed a wave of gentrification, with all the contradictions that term implies, but more down-to-earth places can be found to while away an evening or an idle Sunday. Neighborhood bodegas, cafes, and thrift stores contrast dramatically with the high-rises behind them, and Edgewater does feel like a place in transition. However, it does offer variety, a high standard of living, and excellent proximity to both beach and city center highlights.
Building Amenities
Over 22,000 sq. ft | 2,050 m² of amenities
Private rooftop restaurant/bar
State-of-the-art fitness center
HiTech coworking center
Controlled property access
Expansive rooftop tranquility pool with jacuzzi, cabanas and grilling stations
Breathtaking vistas of Biscayne Bay
Convenient juice and coffee bar
24/7 security services
Vida Rooftop

Vida Rooftop
Residence Features
Fully finished and furnished Studio, 1- 2-3- & 4 bedroom residences
Balcony with every residence
Gourmet kitchens
Rain showers in primary bathrooms
Washer and dryer in residences
Contemporary lighting packages
Keyless entry system
9-foot-high ceilings with floor
Finished flooring
Euro-style appliances
Custom vanities
Built-out closets
Smart-home systems
Introducing FlexShare
Transform unused nights into dollars.
Vida's FlexShare will list residences online including many of the global homeshare sites.
Vida Residences will be the first condominium with a flexible rental program in Edgewater Miami approved for airbnb and other homeshare and online travel agencies. Studio to 4 bedroom residences will be fully furnished turn-key residences.
Homeshare
Vida Flexshare combines a studio residence adjacent to a one or two-bedroom residence featuring adjoining entryways. The standard occupancy is up to 10 adults.

The design of the floor plan below details a common foyer which enables the residence owner to transform the residence to guests separately as a one-bedroom residence, a two-bedroom residence, or when fully combined, as an executive three-bedroom residence. This flexibility of homesharing is invaluable because it allows the owner to utilize the residence in three different ways.
Vida Flexshare
Vida Residences Floor Plans