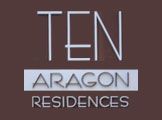 Apartments in Building:
248
Building Details & Policies
Long-term rentals only
Rental Policy:

Once a Year, 1 Year minimum

Lease after Purchase:

Okay To Lease

Pet Policy:

Maximum 20 Lbs, Possible Restrictions
Apartment Mix in Ten Aragon
Total

248

Studios

0

1 Bed

70

2 Bed

91

3 Bed

22

4+ Bed

0
Maintenance: $0.70 per sq.ft. / $7.53 per m2
Actual maintenance per unit may vary
Request Information
0 for Sale





Pending Sales in Ten Aragon

These are recent sales that have not closed. The final sales prace will be published after the property closed.

3 for Rent

Please note!!!

NO vacation stays, seasonal or short-term rentals are allowed at Ten Aragon. The minimum rental period at Ten Aragon, according to condominium policies, is 1 Year. For stays of less than 6 months, please visit our list of Miami Condos that allow short term rentals.

1 Bedroom Units for Rent in Ten Aragon

Apt
Bed/ Baths
Living Area
Rent
Furniture
Listed on
$ per ft2 (m2)
903
1/1
798 ft2 (74m2)

$2,700

10%

$2,995

Unfurnished
$3 ( $36)
1202
1/1
798 ft2 (74m2)

$2,600

Unfurnished
$3 ( $35)

2 Bedroom Units for Rent in Ten Aragon

Apt
Bed/ Baths
Living Area
Rent
Furniture
Listed on
$ per ft2 (m2)
1501
2/2
1,114 ft2 (103m2)

$3,700

5%

$3,900

Unfurnished
$3 ( $36)

Statistics

FusionCharts will render here

Average Sales Prices by Units in Ten Aragon

Average Asking Price vs Average Sold Price in Ten Aragon

SOLD

Miami Residence Chart will render here
0
Condos for Sale
from $0 to $0
3
Condos for Rent
from $2,600 to $3,700
Maintenance:

0.70 per ft2 ($ 7.53

Built in:

2004

Units in Building:

248

Floors in Building:

16

Condo Sizes:

0 - 1,114 ft2 (74 - 103) m2

Architect:

n/a

Developer:

n/a
Ten Aragon Condos for Sale and Rent
Ten Aragon Contemporary Construction
Ten Aragon is a modern high-rise building located on vibrant Miracle Mile in the center of upscale Coral Gables, FL. Ten Aragon is an elegant and stately building, boasting the attractive Mediterranean-style architecture synonymous with "City Beautiful", hosting commercial space, garage parking, and 184 luxury condominiums.
Ten Aragon Luxury Condominiums
Ten Aragon hosts one-, two- and three-bedroom configurations which feature the elements which make Miami real estate so popular, with generous light-filled open floor plans, high ceilings, and large windows. Completed in 2004, a typical Ten Aragon condo for sale will be finished to the high standards of contemporary interior design, offering a collection of luxury condominiums with the chic fixtures and fittings and modern functionality one associates with the Miami condo lifestyle.
Ten Aragon Amenities & Facilities
Miami real estate is renowned throughout the world for its exceptional standards of service and amenities, and Ten Aragon does not disappoint, with residents benefiting from a refreshing swimming pool, a well-equipped fitness center, and various indoor and outdoor community rooms. Professional and friendly service staff ensure life at Ten Aragon is a simple pleasure, whilst ample garage parking completes this walkable lifestyle.
Around Ten Aragon
Located directly on vibrant Miracle Mile in the heart of Coral Gables, residents of Ten Aragon can walk to the exclusive restaurants, retail outlets, cafes, and entertainment venues of "City Beautiful". Ten Aragon is perfectly situated for effortless access South Florida's favorite neighborhoods, with a short drive to the waterfront at Coconut Grove (10 minutes), downtown Miami (15 minutes), South Beach (30 minutes), and Miami International Airport (20 minutes).
Why Coral Gables?
Coral Gables represents the more peaceful and relaxed elements of Miami real estate. This delightful low- to mid-rise neighborhood boasts attractive Mediterranean-style buildings with more intimate communities when compared to the soaring high-rises along the Miami oceanfront. Pedestrian-friendly streets which are lined with trees, combined with a vibrant social scene, make Coral Gables a delightful place to call home and an ideal location for live-in buyers and investors alike.
w current listings, prices and pictures.
For any questions about contact us
Call today 305 751-1000
Any questions about Ten Aragon?
Contact our