1300 Ponce apartments for sale and rent
1300 Ponce De Leon Blvd., Coral Gables, FL 33134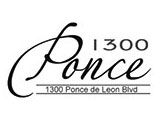 11 for Sale

1 Bedroom Units for Sale in 1300 Ponce

| | | | | | | | |
| --- | --- | --- | --- | --- | --- | --- | --- |
| | 800 | 1/1.5 | 799 ft2 (74m2) | $425 ($4,575) | $339,575 | Feb 28, 18 | 21 |
| | 702 | 1/1.5 | 780 ft2 (72m2) | $397 ($4,278) | $310,000 | Mar 11, 20 | 31 |

2 Bedroom Units for Sale in 1300 Ponce

| | | | | | | | |
| --- | --- | --- | --- | --- | --- | --- | --- |
| | 813 | 2/2 | 1,360 ft2 (126m2) | $425 ($4,575) | $578,000 | May 29, 19 | 15 |
| | 1100 | 2/2 | 1,191 ft2 (111m2) | $441 ($4,745) | $525,000 | Jan 23, 20 | 18 |
| | 714 | 2/2 | 1,233 ft2 (115m2) | $425 ($4,575) | $524,025 | Nov 08, 17 | 22 |
| | 1210 | 2/2.5 | 1,132 ft2 (105m2) | $459 ($4,945) | $520,000 | Mar 12, 19 | 7 |
| | 1200 | 2/2 | 1,198 ft2 (111m2) | $425 ($4,575) | $509,150 | Sep 21, 18 | 15 |
| | 815 | 2/2 | 1,133 ft2 (105m2) | $425 ($4,575) | $481,525 | May 29, 19 | 16 |
| | 806 | 2/2.5 | 1,122 ft2 (104m2) | $406 ($4,365) | $455,000 | Apr 03, 19 | 19 |
| | 303 | 2/2.5 | 1,210 ft2 (112m2) | $375 ($4,036) | $453,750 | Apr 02, 20 | 20 |
| | 906 | 2/2.5 | 1,122 ft2 (104m2) | $400 ($4,307) | $449,000 | Aug 13, 19 | 16 |





Pending Sales in 1300 Ponce

These are recent sales that have not closed. The final sales prace will be published after the property closed.

1 for Rent

Statistics

FusionCharts will render here

Average Sales Prices by Units in 1300 Ponce

Average Asking Price vs Average Sold Price in 1300 Ponce

SOLD

Miami Residence Chart will render here

Miami Residence Chart will render here

Sold in Last 12 Months

| | | | | | | |
| --- | --- | --- | --- | --- | --- | --- |
| Sale Date | Apt | Asking | Sold Price | Living Area | Bed/Bath | $ per ft2 (m2) |

1 Bedroom Apartmnets Sold in 1300 Ponce

| | | | | | | |
| --- | --- | --- | --- | --- | --- | --- |
| 2019-02-20 | 502 | $304,535 | $304,535 | 791 ft2 (73m2) | 1/1.5 | $385( $4,144) |

| | | | | | | |
| --- | --- | --- | --- | --- | --- | --- |
| 2019-07-03 | 307 | $317,625 | $317,625 | 847 ft2 (79m2) | 1/1.5 | $375( $4,036) |

| | | | | | | |
| --- | --- | --- | --- | --- | --- | --- |
| 2020-04-04 | 902 | $300,000 | $300,000 | 780 ft2 (72m2) | 1/1.5 | $385( $4,140) |

| | | | | | | |
| --- | --- | --- | --- | --- | --- | --- |
| 2019-07-19 | 509 | $305,305 | $305,305 | 793 ft2 (74m2) | 1/1.5 | $385( $4,144) |

| | | | | | | |
| --- | --- | --- | --- | --- | --- | --- |
| 2019-03-25 | 401 | $316,875 | $316,875 | 845 ft2 (79m2) | 1/1.5 | $375( $4,036) |

| | | | | | | |
| --- | --- | --- | --- | --- | --- | --- |
| 2018-08-29 | 409 | $326,095 | $326,095 | 847 ft2 (79m2) | 1/1.5 | $385( $4,144) |

| | | | | | | |
| --- | --- | --- | --- | --- | --- | --- |
| Sale Date | Apt | Asking | Sold Price | Living Area | Bed/Bath | $ per ft2 (m2) |

2 Bedroom Apartmnets Sold in 1300 Ponce

| | | | | | | |
| --- | --- | --- | --- | --- | --- | --- |
| 2018-05-14 | 1009 | $518,925 | $518,925 | 1,221 ft2 (113m2) | 2/2.5 | $425( $4,575) |

| | | | | | | |
| --- | --- | --- | --- | --- | --- | --- |
| 2018-07-31 | 807 | $476,000 | $476,000 | 1,120 ft2 (104m2) | 2/2 | $425( $4,575) |

| | | | | | | |
| --- | --- | --- | --- | --- | --- | --- |
| 2019-08-13 | 803 | $450,000 | $450,000 | 1,108 ft2 (103m2) | 2/2.5 | $406( $4,372) |

| | | | | | | |
| --- | --- | --- | --- | --- | --- | --- |
| 2018-09-10 | 514 | $438,130 | $438,130 | 1,133 ft2 (105m2) | 2/2 | $387( $4,162) |

| | | | | | | |
| --- | --- | --- | --- | --- | --- | --- |
| 2017-11-08 | 900 | $509,150 | $529,150 | 1,198 ft2 (111m2) | 2/2 | $442( $4,754) |

| | | | | | | |
| --- | --- | --- | --- | --- | --- | --- |
| Sale Date | Apt | Asking | Sold Price | Living Area | Bed/Bath | $ per ft2 (m2) |

3 Bedroom Apartmnets Sold in 1300 Ponce

| | | | | | | |
| --- | --- | --- | --- | --- | --- | --- |
| 2019-08-28 | 612 | $560,000 | $560,000 | 1,407 ft2 (131m2) | 3/3.5 | $398( $4,284) |
11
Condos for Sale
from $310,000 to $578,000
1
Condos for Rent
from $3,300 to $3,300
Maintenance:

per ft2 ($ 0

Built in:

2009

_MR_UNITS:

125

Floors in Building:

12

Condo Sizes:

0 - 1,360 ft2 (72 - 126) m2

Architect:

n/a

Developer:

n/a
1300 Ponce, Coral Gables for sale and rent
1300 Ponce Contemporary Mid-Rise
1300 Ponce is a modern condominium mid-rise located in wonderful Coral Gables, FL. 1300 Ponce is a fine example of Miami real estate, with the architecturally-ornate Mediterranean-style architecture typical of sunny Coral Gables which has earned this gorgeous neighborhood the golden title of "City Beautiful".
1300 Ponce Luxury Condominiums
Completed in 2008, 1300 Ponce condos for sale are finished to exceptional standards, benefiting from modern trends in interior design and functionality. A typical 1300 Ponce condo for sale will have large windows and generous open floor plans which are bathed in natural light, offering one- to three-bedroom floor plan configurations featuring gourmet kitchens and marble bathrooms.
1300 Ponce Amenities & Facilities
This contemporary Coral Gables condo building is a twelve-storey structure hosting just 125 luxury condominiums; creating a high level of privacy and an intimate community with which the share the stunning 25,000 sq. ft. lanai pool deck, the well-equipped fitness center, and the attractive community rooms. These spacious facilities combined with a quaint number of residences creates the relaxing Miami condo lifestyle one would expect to find in upscale Coral Gables real estate.
Around 1300 Ponce 1300 Ponce has friendly and professional service staff, whilst ample garage parking makes life here a simple pleasure. The upscale and relaxed urban lifestyle of Coral Gables is easily accessible, with a short walk to vibrant Miracle Mile. Residents can effortlessly access South Florida's favorite neighborhoods, where it is just minutes to the waterfront restaurants and cafes of idyllic Coconut Grove, close to downtown Miami (5 miles), South Beach (30 minutes), and Miami International Airport (15 minutes).
Why Coral Gables?
Coral Gables represents the more peaceful and relaxed elements of Miami real estate. This delightful low- to mid-rise neighborhood boasts attractive Mediterranean-style buildings with more intimate communities when compared to the soaring high-rises along the Miami oceanfront. Pedestrian-friendly streets which are lined with trees, combined with a vibrant social scene, make Coral Gables a delightful place to call home and an ideal location for live-in buyers and investors alike.
For any questions about Coral Gables Real Estate contact Miami Residence Realty - Coral Gables Real Estate Agent.
Call today 305-751-1000
For any questions about contact us
Call today 305 751-1000
Any questions about 1300 Ponce?
Contact our