HYDE Beach House apartments for sale and rent
4010 S Ocean Dr, Hollywood Beach, FL 33019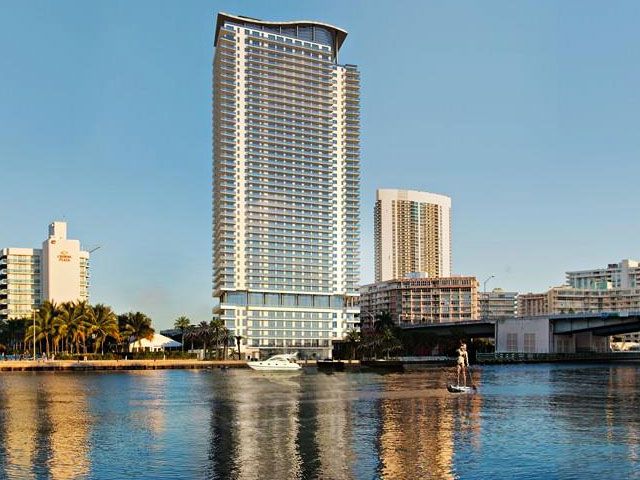 30 for Sale

1 Bedroom Units for Sale in HYDE Beach House

| | | | | | | | |
| --- | --- | --- | --- | --- | --- | --- | --- |
| | 406 | 1/1.5 | n/a | $0 ($0) | $499,000 | Dec 13, 19 | 34 |
| | 706 | 1/1.5 | n/a | $0 ($0) | $479,000 | Dec 16, 19 | 46 |
| | 306 | 1/1.5 | n/a | $0 ($0) | $435,000 | Dec 16, 19 | 42 |
| | 1206 | 1/1.5 | n/a | $0 ($0) | $428,900 | May 28, 20 | 35 |

2 Bedroom Units for Sale in HYDE Beach House

| | | | | | | | |
| --- | --- | --- | --- | --- | --- | --- | --- |
| | 4009 | 2/2 | n/a | $0 ($0) | $1,249,000 | May 03, 20 | 18 |
| | T4301 UPPER PENTHOUSE | 2/2 | n/a | $0 ($0) | $1,149,000 | Dec 10, 19 | 38 |
| | 3909 | 2/2 | 1,252 ft2 (116m2) | $878 ($9,449) | $1,099,000 | Nov 08, 19 | 56 |
| | LPH02 | 2/2 | n/a | $0 ($0) | $995,000 | Feb 27, 20 | 99 |
| | 2709 | 2/2 | n/a | $0 ($0) | $950,000 | Feb 18, 20 | 17 |
| | 4207 | 2/2 | n/a | $0 ($0) | $899,000 | Mar 03, 20 | 28 |
| | 2702 | 2/2 | n/a | $0 ($0) | $850,000 | Feb 24, 20 | 39 |
| | 2207 | 2/2 | n/a | $0 ($0) | $800,000 | Feb 28, 20 | 23 |
| | 3403 | 2/2 | n/a | $0 ($0) | $799,000 | Mar 03, 20 | 43 |
| | 2505 | 2/2 | n/a | $0 ($0) | $798,000 | Dec 05, 19 | 17 |
| | 1209 | 2/2 | n/a | $0 ($0) | $790,000 | Nov 18, 19 | 35 |
| | R809 | 2/2 | 1,060 ft2 (98m2) | $741 ($7,971) | $785,000 | Apr 22, 20 | 21 |
| | 2105 | 2/2 | n/a | $0 ($0) | $765,000 | Jan 15, 20 | 26 |
| | R2805 | 2/2 | n/a | $0 ($0) | $750,000 | Jun 05, 20NEW | 20 |
| | R2005 | 2/2 | 1,044 ft2 (97m2) | $714 ($7,681) | $745,000 | Mar 09, 20 | 35 |
| | R 907 | 2/2 | n/a | $0 ($0) | $725,000 | Nov 15, 19 | 36 |
| | R807 | 2/2 | n/a | $0 ($0) | $725,000 | Jan 15, 20 | 19 |
| | 2402 | 2/2 | n/a | $0 ($0) | $689,900 | Dec 20, 19 | 35 |
| | T3902 | 2/2 | n/a | $0 ($0) | $688,000 | Jun 03, 20 | 1 |
| | T4002 | 2/2 | n/a | $0 ($0) | $688,000 | Jun 03, 20 | 1 |

3 Bedroom Units for Sale in HYDE Beach House

| | | | | | | | |
| --- | --- | --- | --- | --- | --- | --- | --- |
| | 3804 | 3/2.5 | n/a | $0 ($0) | $1,150,000 | Jan 03, 20 | 69 |
| | R1608 | 3/2.5 | n/a | $0 ($0) | $1,099,900 | Feb 26, 20 | 15 |
| | T3607 | 3/2 | 1,100 ft2 (102m2) | $908 ($9,776) | $999,000 | May 29, 20 | 52 |
| | 904 | 3/2 | n/a | $0 ($0) | $899,000 | Nov 04, 19 | 66 |
| | R1004 | 3/2 | n/a | $0 ($0) | $830,000 | May 12, 20 | 42 |
| | 508 | 3/2.5 | n/a | $0 ($0) | $799,000 | Oct 10, 19 | 69 |





Pending Sales in HYDE Beach House

These are recent sales that have not closed. The final sales prace will be published after the property closed.

14 for Rent

1 Bedroom Units for Rent in HYDE Beach House

| | | | | | | | |
| --- | --- | --- | --- | --- | --- | --- | --- |
| | 1906 | 1/1.5 | n/a | $0 ( $0) | $4,800 | Dec 16, 2019 | 31 |
| | 1501 | 1/1.5 | n/a | $0 ( $0) | $3,900 | May 29, 2020 | 32 |

2 Bedroom Units for Rent in HYDE Beach House

| | | | | | | | |
| --- | --- | --- | --- | --- | --- | --- | --- |
| | T4207 | 2/2 | n/a | $0 ( $0) | $7,000 | Jun 03, 2020 | 28 |
| | 1202 | 2/2 | n/a | $0 ( $0) | $7,000 | Dec 26, 2019 | 19 |
| | 3202 | 2/2 | n/a | $0 ( $0) | $6,000 | Feb 04, 2020 | 13 |
| | R3007 | 2/2 | 1,315 ft2 (122m2) | $4 ( $48) | $5,900 | May 25, 2020 | 33 |
| | 1209 | 2/2 | n/a | $0 ( $0) | $5,900 | Dec 16, 2019 | 35 |
| | R1001 | 2/2 | n/a | $0 ( $0) | $5,000 | Apr 28, 2020 | 25 |
| | 3102-SEASONAL | 2/2 | n/a | $0 ( $0) | $5,000 | Dec 12, 2019 | 35 |
| | 2403Seasonal | 2/2 | 1,100 ft2 (102m2) | $4 ( $44) | $4,500 | Oct 27, 2019 | 50 |
| | 301 | 2/2 | n/a | $0 ( $0) | $2,000 | Nov 05, 2019 | 21 |
| | 402 | 2/2 | n/a | $0 ( $0) | $1,500 | Feb 10, 2020 | 26 |

3 Bedroom Units for Rent in HYDE Beach House

| | | | | | | | |
| --- | --- | --- | --- | --- | --- | --- | --- |
| | 1008 | 3/2.5 | n/a | $0 ( $0) | $6,500 | Feb 10, 2020 | 14 |
| | T4304 | 3/2 | n/a | $0 ( $0) | $6,500 | Apr 06, 2020 | 36 |

Statistics

FusionCharts will render here

Average Sales Prices by Units in HYDE Beach House

Average Asking Price vs Average Sold Price in HYDE Beach House

SOLD

Miami Residence Chart will render here

Miami Residence Chart will render here



No Information about Sold Properties in this Building
Contact Miami Residence Agent


HYDE Beach House Floor Plans
30
Condos for Sale
from $428,900 to $1,249,000
14
Condos for Rent
from $1,500 to $7,000
Maintenance:

per ft2 ($ 0

Built in:

2019

Units in Building:

342

Floors in Building:

43

Condo Sizes:

0 - 1,315 ft2 (0 - 122) m2

Architect:

Cohen, Freedman, Encinosa & Assoc. Architects

Developer:

PRH 4000 South Ocean Drive, LLC
HYDE Beach House - New Resort Condominium & Residences in Hollywood Beach, Florida
Located in Hollywood Beach in the heart of South Florida, steps away from the ocean beach. Nestled between the Intracoastal waterways and the pristine Beaches of the Atlantic Ocean. Just minutes away from the Aventura Mall, Shops at Bal Harbour, and Gulfstream Park.
FEATURES & AMENITIES
Stylish and sophisticated amenity spaces designed by Debora Aguiar.
Extraordinary architectural design by internationally acclaimed architects Cohen, Freedman, & Encinosa – projects include over 50 luxury condominiums in South Florida including Apogee Beach, Hyde Resort & Residences, Mansions at Aqualina and Bellini Bal Harbour.
Hyde Beach House will be professionally managed by Gemstone.
Elegant double volume entrance lobby exquisitely appointed with designer furniture and finishes.
Permanent installation of curated art collection throughout the building's public spaces.
Aqua Club situated directly on the Intracoastal Waterway offering access to jet skis, paddle boards, kayaks, windsurfing, and kite surfing.
State-of-the-art, fully equipped fitness center with cardio theatre overlooking the pool deck and Intracoastal.
Exclusive Health spa with men's and women's facilities.
A Hyde Signature Restaurant, which will offer seasonal cuisine and signature craft cocktails overlooking the infinity edge pool and accessible via the Intracoastal.
Expansive pool deck with dual views of the Intracoastal Waterway and Atlantic Ocean.
Pool deck will feature semi-private cabanas, infinity-edge pool, outdoor kitchen and dining area, along with an outdoor movie theater with lounge area and fire pit.
Sports Club featuring amazing Intracoastal views from the outdoor multi-use sports court for tennis and basketball as well as an indoor racquetball court.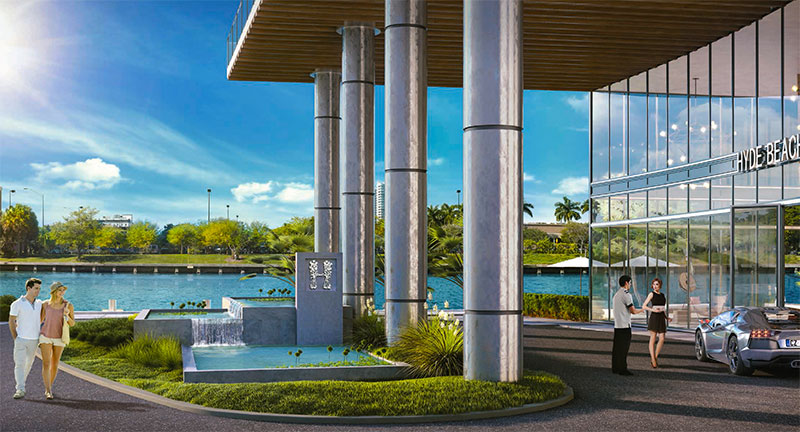 Elegant Double Volume Entrance Lobby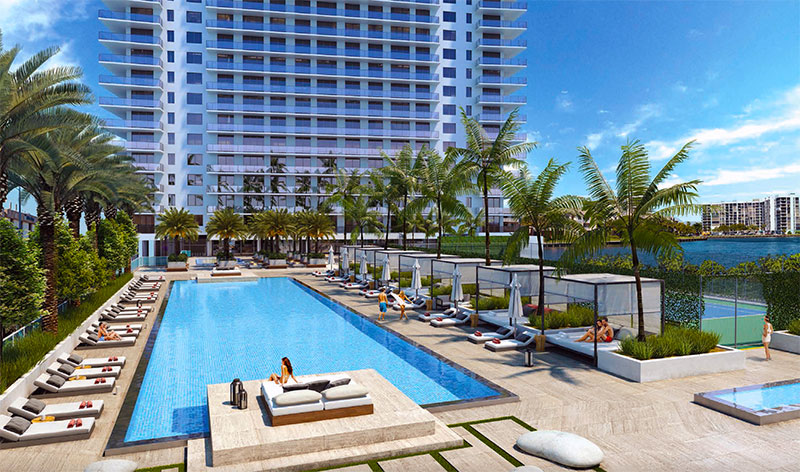 Expansive Pool and Amenity Deck
Aqua Club Situated Directly On The Intracoastal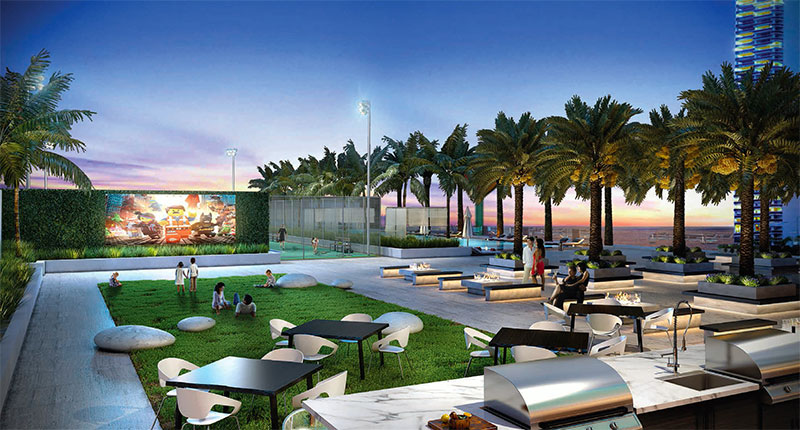 Outdoor Movie Theater With Lounge Area and Fire Pit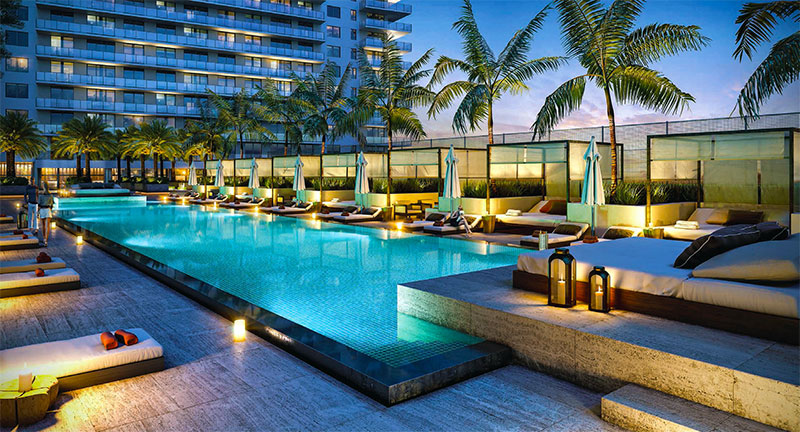 RESIDENCE FEATURES
77 Decorator Ready condominiums (carpet flooring included) featuring one, two and three bedroom units with unrestricted use rights and open-concept contemporary floor plans.
265 beautifully finished and furnished one, two and three bedroom resort condominiums with a use restriction not to exceed 150 days in a year.
Fully finished interiors furnished with contemporary European designer furniture.
Living Rooms appointed with luxurious European design furniture and LED "Smart" televisions.
In unit technology featuring high speed internet access, WIFI, phone service and individual climate control systems.
Security features including in-room safes and electronic door locks.
Wide private terraces with glass railings and unobstructed views, accessible from the living and bedroom areas.
Dazzling Water views from virtually every residence.
Energy efficient, tinted, impact resistant, floor-to-ceiling sliding glass doors and windows.
Spacious walk-in wardrobes closets in most residences along with owner's closets.
Individually controlled, energy efficient central air conditioning and heating systems.
Advanced Technology "Smart Building" pre-wired with fiber optic for high speed internet, data/voice cable TV access.
STYLE SAVVY KITCHENS
A premium selection of contemporary European cabinetry
Imported stone counter tops with convenient breakfast bar in most residences
Stainless steel appliance package with refrigerator/freezer, stove glass cooktop, built-in oven, multi-cycle whisper quiet dishwasher, built in microwave with integrated vent hood and stackable washer and dryer
Double stainless steel under-mount sink, with single-lever European-style pullout faucet sprayer
Imported designer porcelain tile floors
TRANQUIL BATHROOMS
TRANQUIL BATHROOMS:
European style cabinetry with exceptional detailing
Imported stone counter tops
Full-size vanity mirrors with designer lighting
Floors and wet walls clad in imported designer porcelain tile
Designer bathroom fixtures and accessories
Spacious soaking tub and glass enclosed shower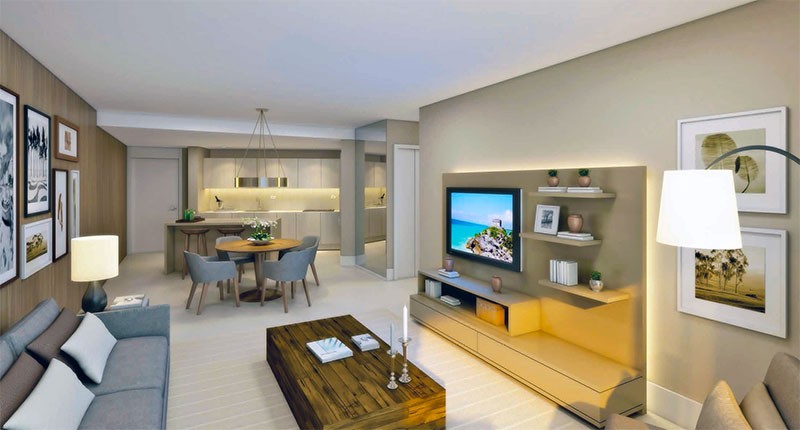 Beautifully Appointed Residences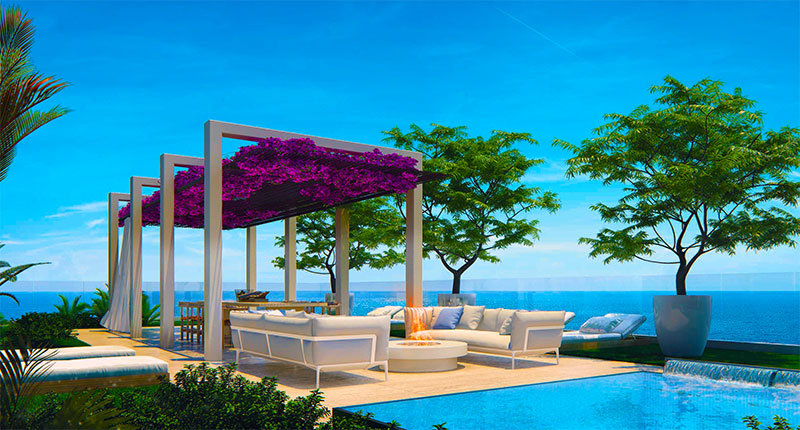 Private Rooftop Lounge Area
VIP ACCESS TO HYDE BEACH CLUB & AMENITIES
Barefoot Butler service for snacks and beverages on the beach
Chaise lounges with towel and umbrella service on the beach
Private beachside treatment rooms offering luxurious massages
Beachside Fitness Center offering Personal trainers available to create customized health and wellness regimes.
HYDE BEACH CLUB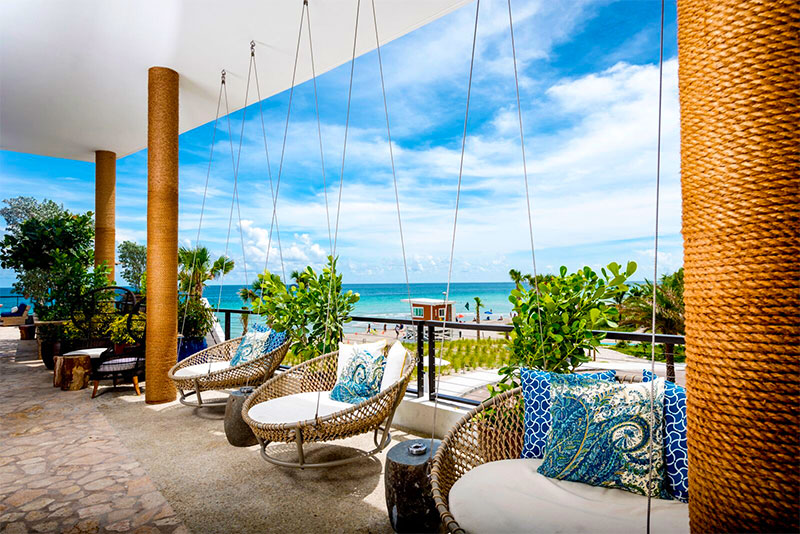 HYDE BEACH CLUB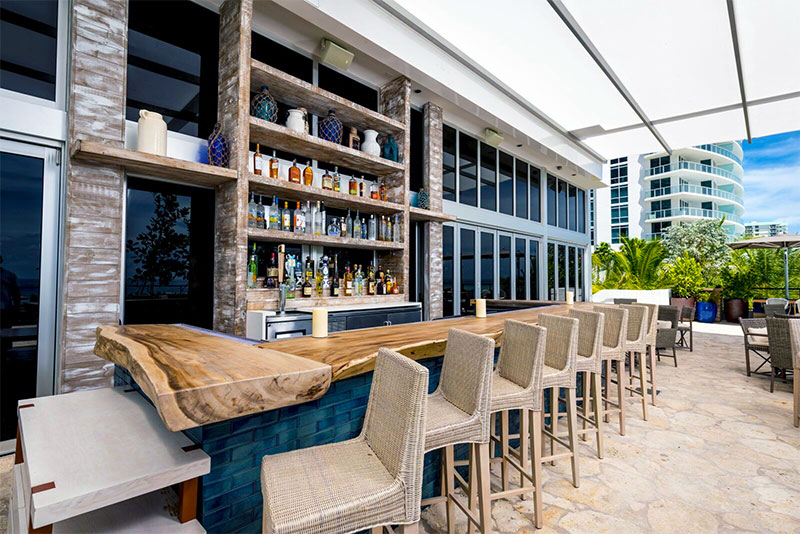 HYDE BEACH CLUB
HYDE BEACH CLUB
HYDE BEACH CLUB
For any questions about contact us
Call today 305 751-1000
Any questions about HYDE Beach House?
Contact our