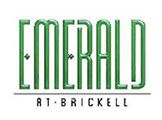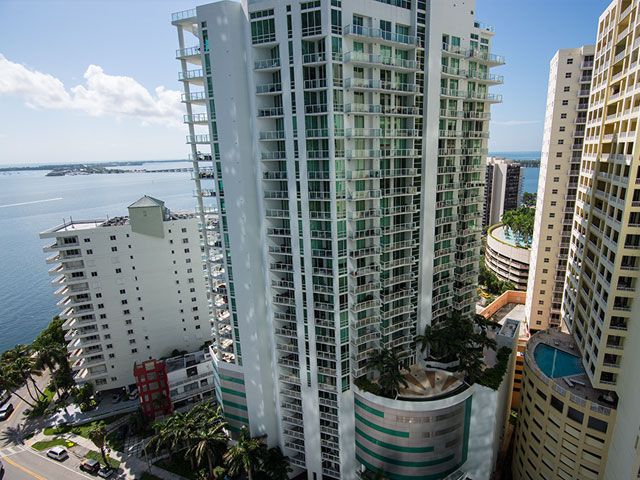 Apartments in Building:
143
Building Details & Policies
Long-term rentals only
Rental Policy:

Once a Year, 1 Year minimum

Lease after Purchase:

Okay To Lease

Pet Policy:

Maximum 20 Lbs, Possible Restrictions
Apartment Mix in Emerald at Brickell
Total

143

Studios

0

1 Bed

63

2 Bed

71

3 Bed

9

4+ Bed

0
Maintenance: $0.65 per sq.ft. / $7 per m2
Actual maintenance per unit may vary
Request Information
2 for Sale

2 Bedroom Units for Sale in Emerald at Brickell

Apt
Bed/ Baths
Living Area
Price
Furniture
Listed on
$ per ft2 (m2)
1710
2/2.5
1,278 ft2 (119m2)

$980,000

n/a
$767 ($8,254)
3505
2/2
1,101 ft2 (102m2)

$935,000

3%

$910,000

n/a
$849 ($9,141)





Pending Sales in Emerald at Brickell

These are recent sales that have not closed. The final sales prace will be published after the property closed.

1 for Rent

Please note!!!

NO vacation stays, seasonal or short-term rentals are allowed at Emerald at Brickell. The minimum rental period at Emerald at Brickell, according to condominium policies, is 1 Year. For stays of less than 6 months, please visit our list of Miami Condos that allow short term rentals.

1 Bedroom Units for Rent in Emerald at Brickell

| | | | | | | | | |
| --- | --- | --- | --- | --- | --- | --- | --- | --- |
| | 2803 | 1/1 | 688 ft2 (64m2) | $3,200 | Unfurnished | | $5 ( $50) | |

Statistics

FusionCharts will render here

Average Sales Prices by Units in Emerald at Brickell

Average Asking Price vs Average Sold Price in Emerald at Brickell

SOLD

Miami Residence Chart will render here

Floor Plans

Emerald at Brickell Floor Plans

Emerald at Brickell offers 143 residences in 27 stories with different floorplans ranging in size from to sqft. plus large balconies. These are configured in one, two, three and four bedroom layouts.

Residences on floors 8

Residences on floors 9-23

Tower Suites on floor 24

Tower Suites on floors 25-26

Penthouses on floor 27

Use our interactive

site plan above

or select a residence from the

table below

to access its floor plan.
2
Condos for Sale
from $935,000 to $980,000
1
Condos for Rent
from $3,200 to $3,200
Maintenance:

0.65 per ft2 ($ 7

Built in:

2006

Units in Building:

143

Floors in Building:

27

Condo Sizes:

0 - 1,278 ft2 (64 - 119) m2

Architect:

n/a

Developer:

n/a
Emerald at Brickell Residences
Emerald at Brickell is a modern high-rise condominium building located on the oceanfront in the desirable Brickell Financial District of Miami, FL. Emerald at Brickell is a beautiful glass tower designed by celebrated architects, Fullerton-Diaz, offering contemporary light-filled apartments which boast "curve-of-the-earth" glass walls to serve unobstructed panoramic views of the Atlantic Ocean, beautiful Biscayne Bay, and Miami's vibrant skyline.
Emerald at Brickell Luxury Apartments
Emerald at Brickell is a 27-storey tower which hosts just 142 condominiums, creating an intimate community with a high level of privacy in comparison to some of the larger high-rise buildings along the Miami oceanfront. Emerald at Brickell condos for sale are available as one-, two- and three-bedroom homes, which feature spacious open floor plans and are finished to the high standards of contemporary interior design, with features including Italian-style kitchens, quartz counters, and marble bathrooms.
Emerald at Brickell Amenities
Emerald at Brickell offers the resort lifestyle synonymous with Miami's oceanfront, with luxury amenities including an infinity-edge rooftop swimming pool, landscaped terraces and meditation gardens, a rooftop sky lounge, and fitness facilities. A full compliment of professional service staff ensure life at this luxury residential gem is a simple pleasure.
Around Emerald at Brickell
Emerald at Brickell is located in the heart of the vibrant Brickell Financial District: a contemporary urban center with a wealth of great shopping, dining and entertainment venues and a nightlife which is beginning to gather as much notoriety as world-famous South Beach. The central location means residents have an effortless drive to the dynamic urban amenities of Miami's favorite neighborhoods.
For any questions about Brickell Real Estate contact Miami Residence Realty - Brickell Real Estate Agent.
Call today 305-751-1000
For any questions about contact us
Call today 305 751-1000
Any questions about Emerald at Brickell?
Contact our